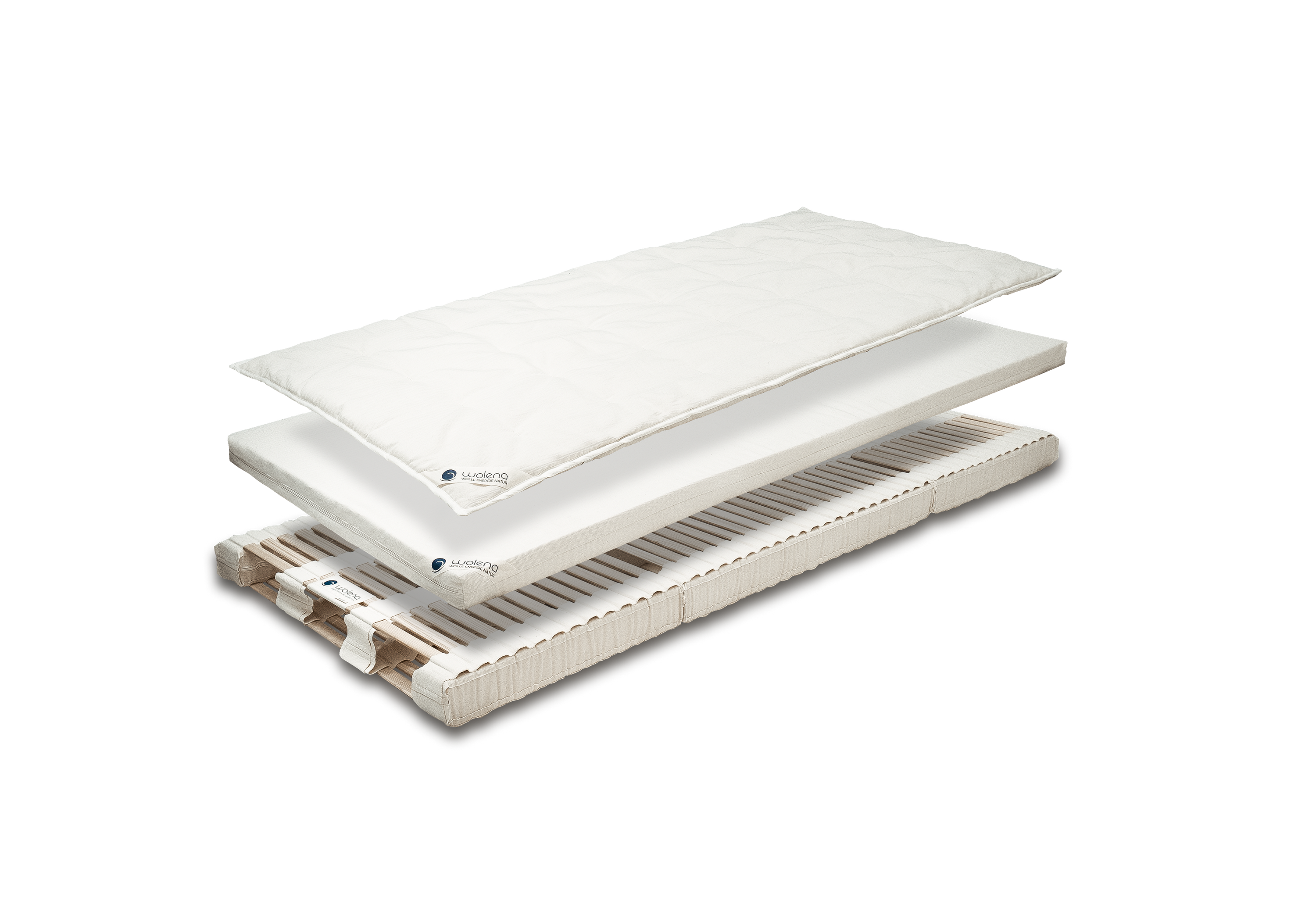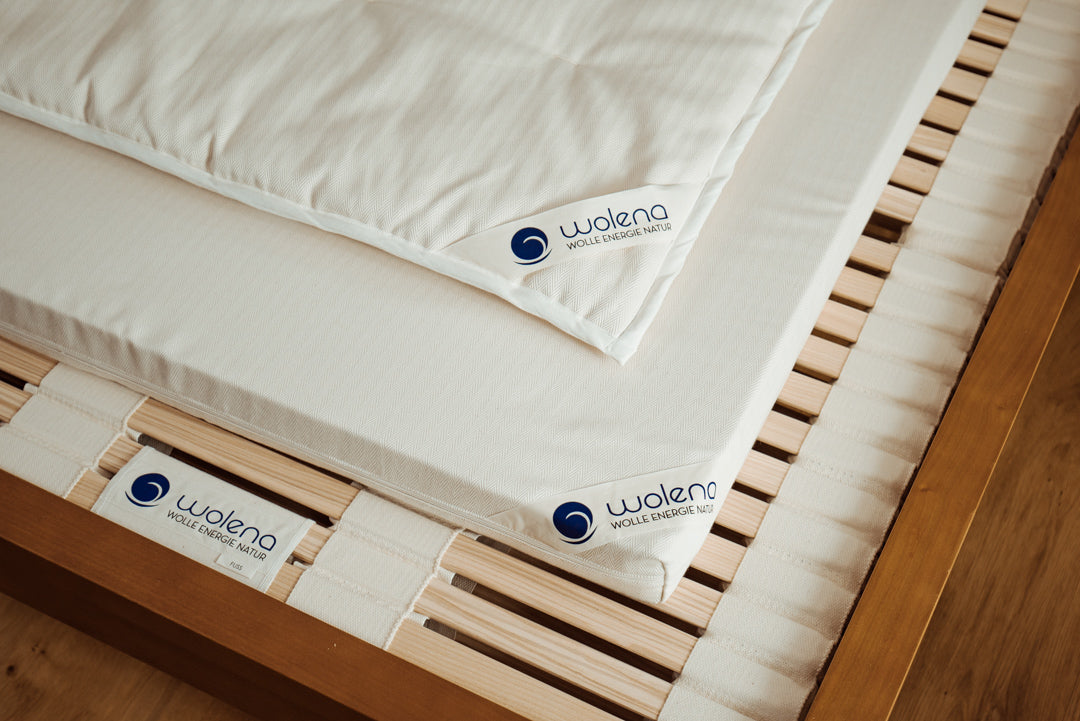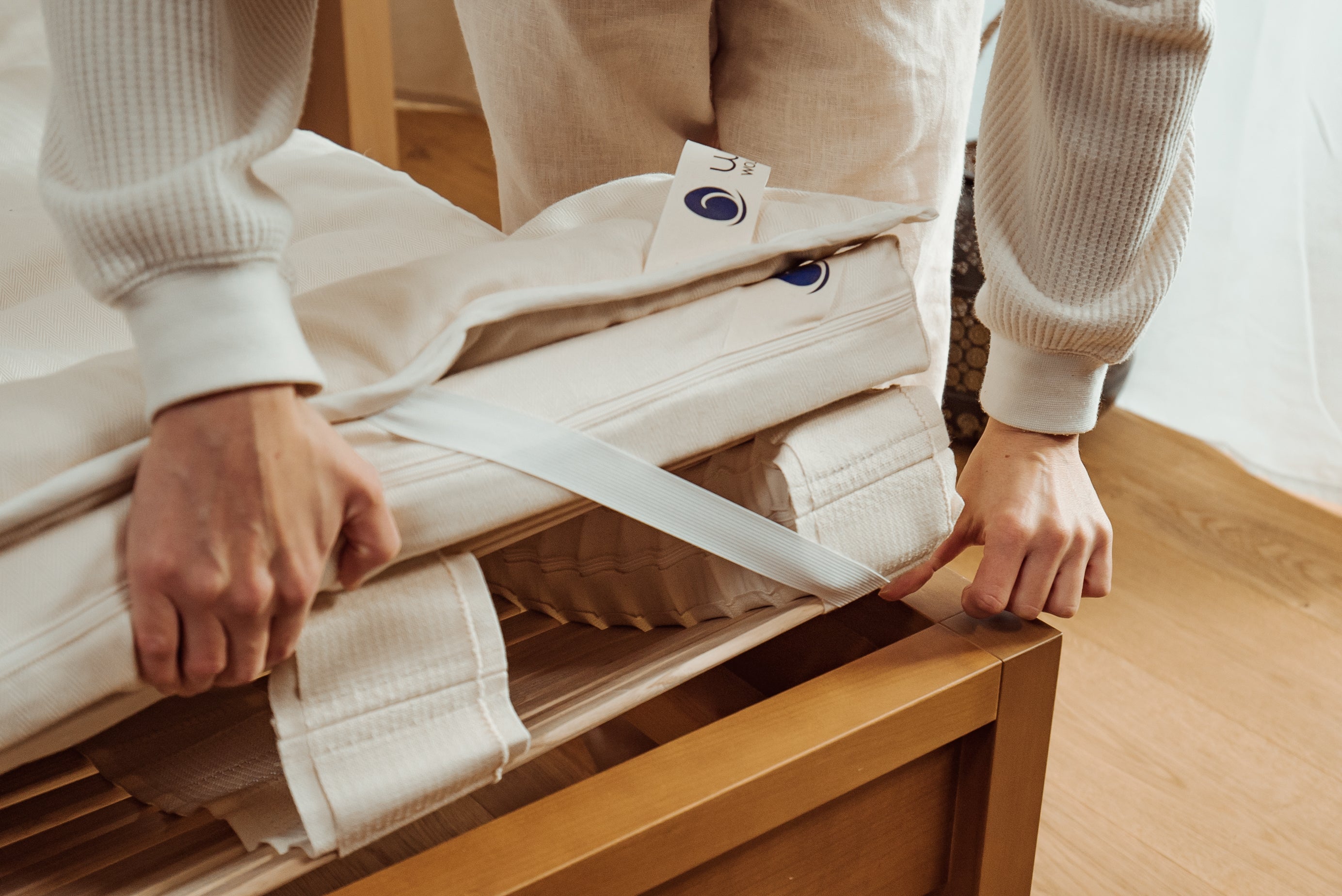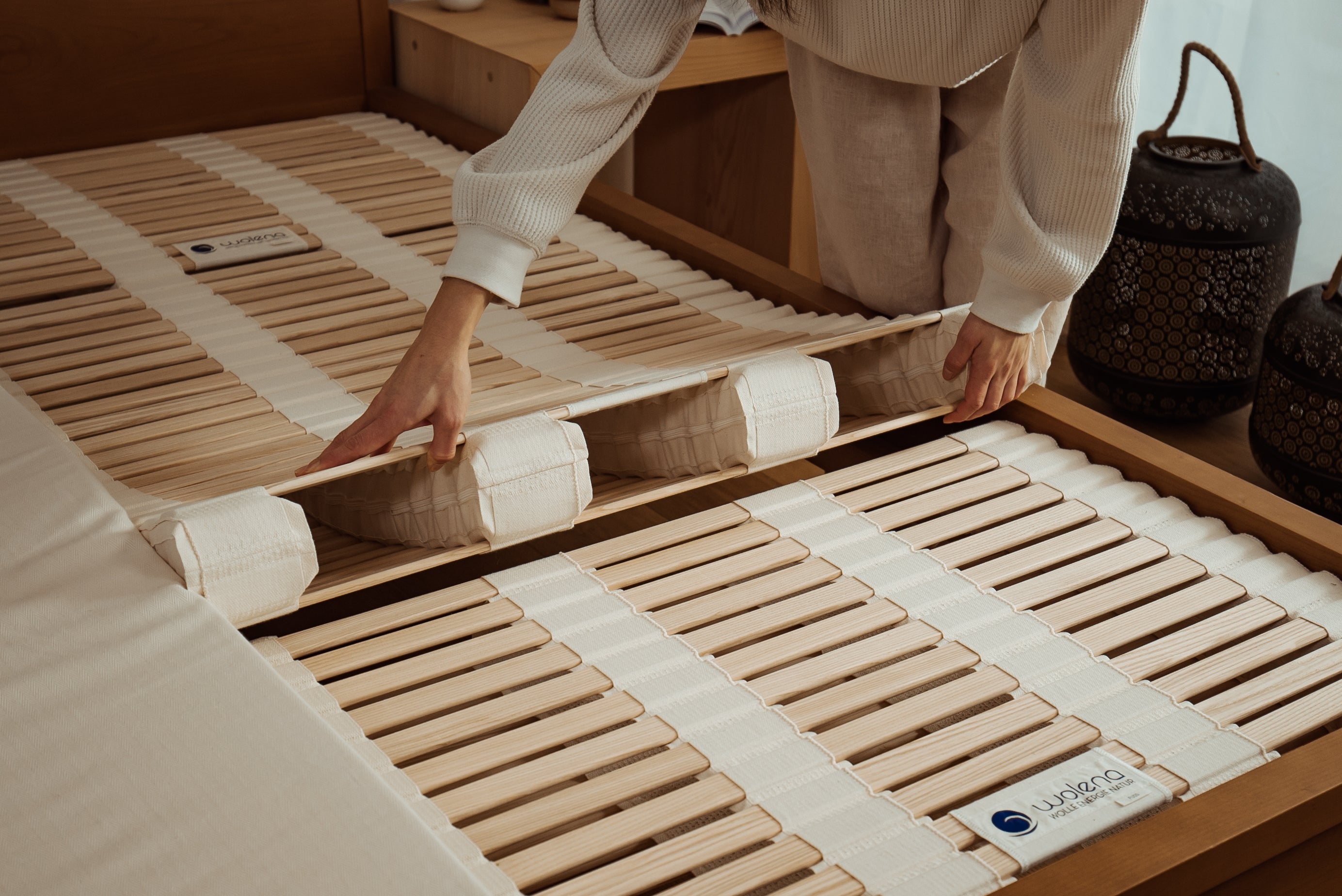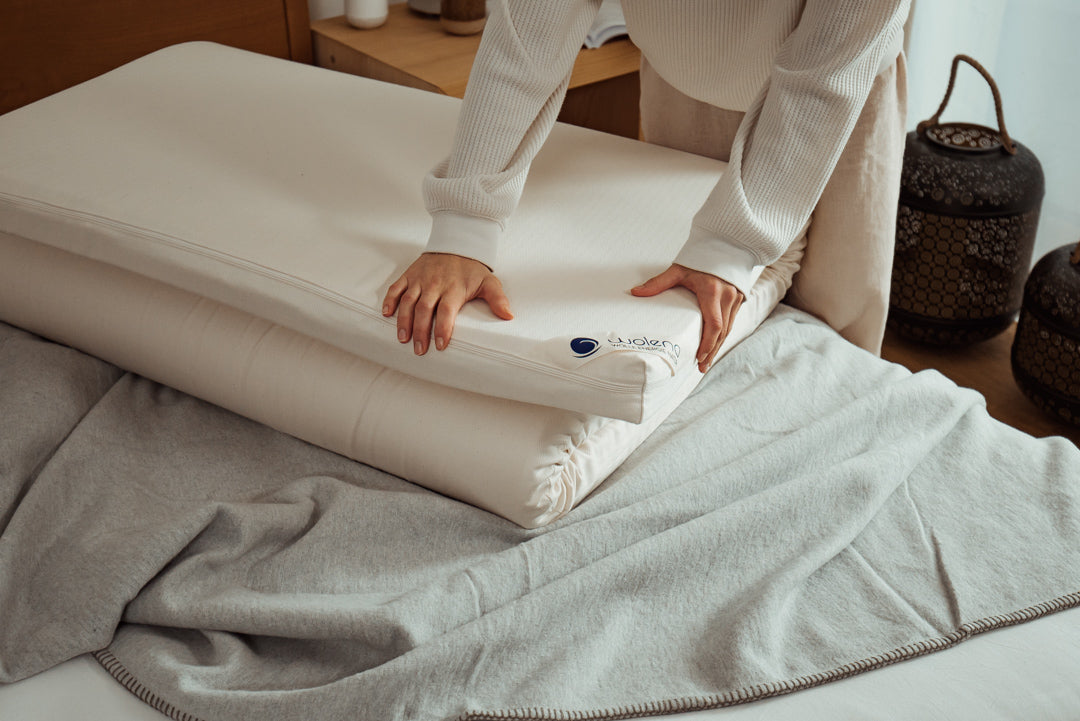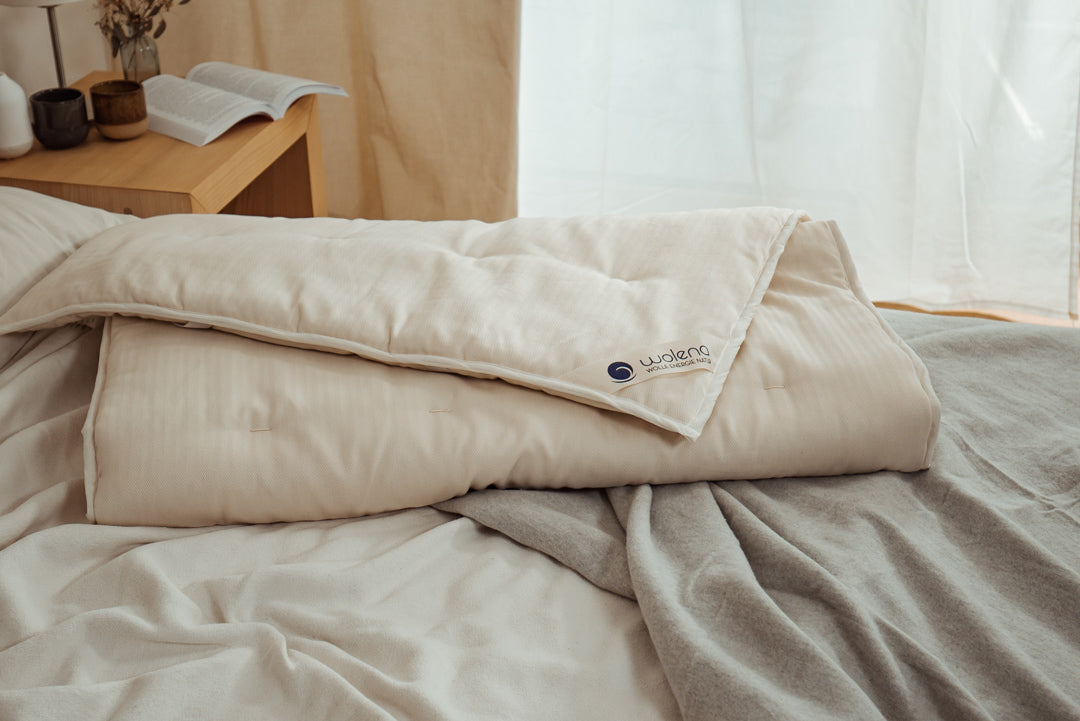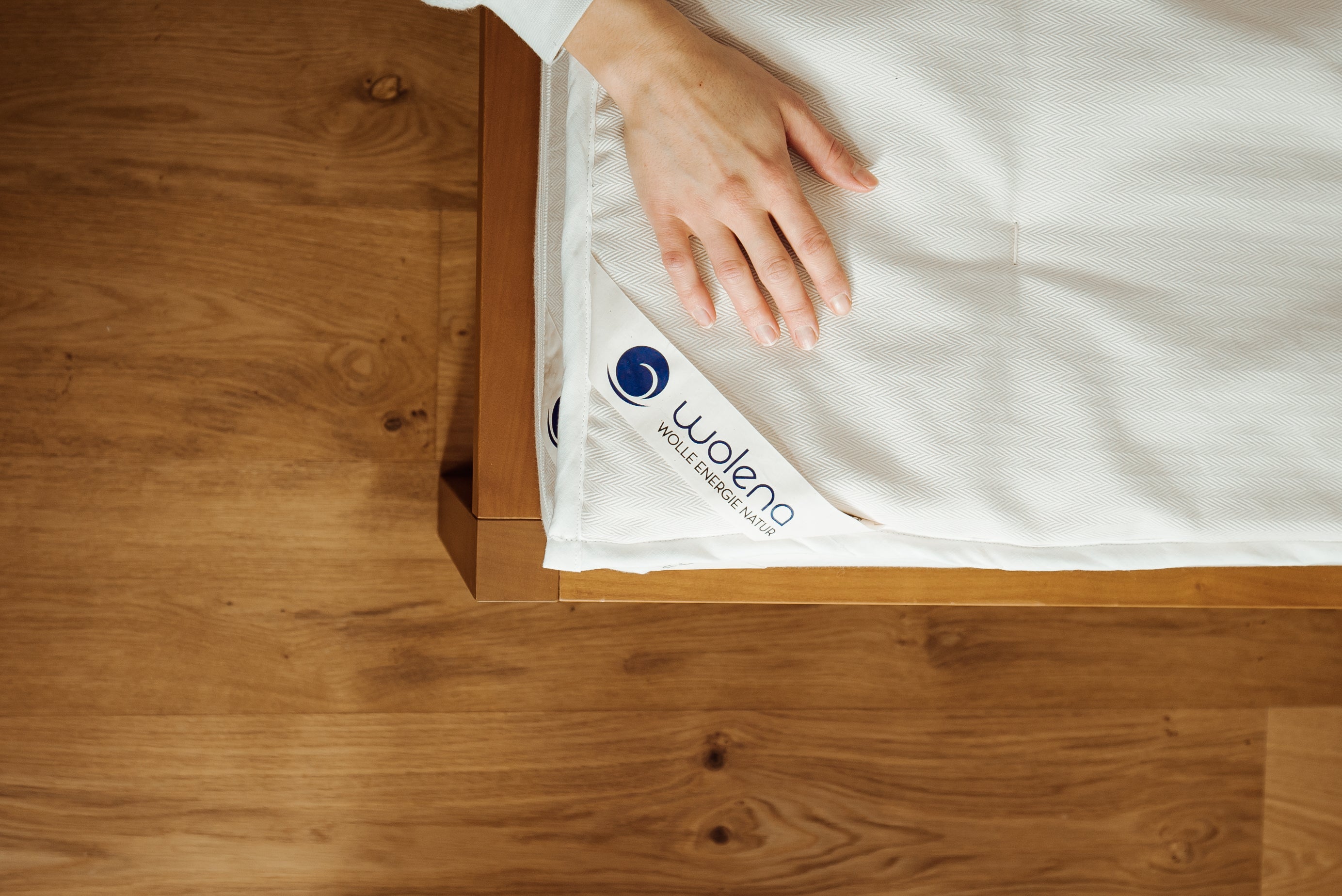 (slatted frame, mattress, mattress topper)
We deliver the sleeping system to the EU free of charge with a delivery time of two weeks!
Nehmen Sie bitte mit uns Kontakt auf, falls Sie Kunden aus der Schweiz oder dem Fürstenstum Liechtenstein sind.
If you need a special size, please feel free to contact us here .
In order to ensure the orthopedic effect of our sleeping system, we only offer the slatted frame, the natural rubber mattress and the wool-hemp mattress pad together.
3-part slatted frame
A double-sided slatted frame individually adapted to your body dimensions, consisting of a separate shoulder part, pelvic part and foot part. Each grate part can also be readjusted later.
body measurements
With information about the body dimensions, we can adapt each part of our slatted frame perfectly to the sleeper. Each of the three parts is labeled, for example, 'man's shoulder' or 'woman's pelvis'.
natural rubber mattress
Highest quality Talalay natural rubber. Thanks to our particularly soft and supportive slatted frame, our mattress is only 7 cm thick - ideal for perfectly positioning your body and retaining the valuable properties of the frame.
sleep balance
Instead of 3, we use 4 bars in our slatted frame - so the body cannot tilt to any side and is balanced at all times.
care instructions
Thanks to the self-cleaning lanolin of the sheep's wool and the antibacterial effect of the hemp fiber, our wool-hemp products require little care.
Because it is a natural product, our wool hemp products are not machine washable. Please do not put it in the dryer either.
In the case of heavy soiling, hand wash with curd soap and dry quickly if possible (hair dryer, radiator, oven) so that there is no water mark. It is possible to dry-clean the hemp bedding.
shipping / installation
Free delivery or installation of our sleeping system throughout Vorarlberg.
Outside of Vorarlberg, our products are delivered by courier. Due to the customs formalities, we only ship our wool and hemp goods, unfortunately not the sleeping system, to Switzerland or the Principality of Liechtenstein - however, we are happy to offer free delivery to the Lustenau / Au customs office.